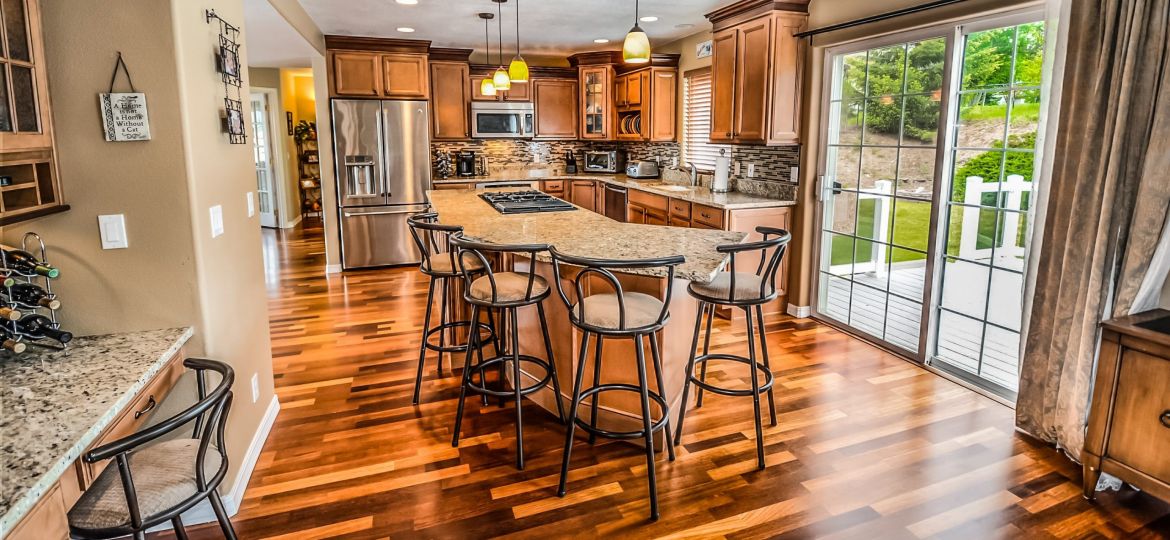 Non-slip floor treatment – Wood floors are a popular choice for both home and business owners. They give any property that enviable hardwood look without the hefty price tag. But over time, wood floor surfaces can become very slippery, which leads to unsteady feet and waving arms at best and fractured limbs and other injuries at worst.
If your sleek wood floors are more slippery than you are happy with, we have some solutions for you. Fortunately, there are several ways you can achieve an anti-slip surface. But first, we will investigate why your wood floors might be slippery.
Non-slip treatment for slippery floors
There could be a number of reasons why your wood floors are so slippery. Naturally, clean and dry wood floors aren't especially slippery, but they are when wet. When you have wood floors in the bathroom, laundry or kitchen they are at risk of becoming slippery.
The same happens if you have wood floors near your entryway and people walk in from the rain. If you have pets that go outside and come in again on wet days, they may leave a trail of wet paw prints which could literally sweep you off your feet.
And if you or your kids wear socks on slippery wood floors, you're up for an accident waiting to happen. Slippery wood floors are dangerous enough but imagine slippery wood stairs – a disaster waiting to happen!
However, the good news is that there are some solutions to reduce the slickness of your wood. We discuss these next.
Keeping your floors clean and dry plays an important role in preventing slips and falls. Start by using a bristle broom to brush away debris and then apply a floor cleaner. It is crucial that your floor cleaner does not contain silicone, wax, polish, vinegar, oil or ammonia.
Not only will these substances maximized slipperiness, but they will dull the finish as well as make it incredibly difficult for you to recoat your floor without lots of preparation. Clean your wood floors with cleaners only recommended by a professional. And remember to run a dry mop over the floor to absorb excess fluid afterwards.
Sanding is often applied when you want to remove polish or wax from wood floors. While it might make your floors look clean and fresh, it does not add traction. Most likely you will need to add a non slip floor treatment for extra grip once you have sanded the floor.
Rugs in the bathroom and kitchen will give you a safe place to put your feet when they or the floor is wet. If your stairs are wood, place a runner down to prevent slips. When you place rugs on wood floors, be mindful to avoid synthetic rubber rug pads and PVC because they can stick to the floor surface and ruin it.
Anti-slip paint for interior and exterior wood floors
Invest in a durable non-skid paint for your wood floors. Designed to add traction, anti-slip paints not only protect your floors but last for years to come. Non-skid floor paint from Slip Drs. Sydney comes in a selection of options to suit your property's needs.
And if you have wood floors outside, our Dura Grip paint is designed to be UV-resistant and is barefoot friendly. It is easy to maintain and ideal in homes and businesses, both inside and outside, where you require anti-slip protection. Its benefits are in its durability, convenience and affordability.
Slip Drs. Sydney manufactures a water-based, clear roll-on urethane sealer ideal for interior wood floors. If you often walk barefoot around your home this is the floor anti-slip treatment for you. Drying in 6 to 12 hours, this anti-slip coating is ideal for homes and businesses that require slip resistance. It is available in a matte and gloss finish and gives you a lustrous sheen.
Extra fine clear spray anti-slip solution
Slip Doctors Sydney also produces an extra fine clear spray anti-slip solution perfect for interior use. An epoxy aerosol spray, this non-slip floor treatment provides a hard, clear, finely textured finish on wood floors. It is easy to apply and convenient for those small or oddly shaped surfaces.
Anti-slip coating is available for indoor and outdoor use. Normally requiring a double coat, each coat spread thinly, anti-slip coating does not affect the colour of your wood floor. There are a number of different anti-slip coatings available depending on the surface and its functionality.
Slip Doctors Sydney has several non-slip solutions to help protect your wood floors. These solutions will keep you steady on your floor, resist scuff marks, deliver excellent durability and won't yellow. You won't need to re-coat for many years to come either.
There are a few factors you need to consider before you settle on the correct solution. Do you like to walk barefoot on your floors? Do your pets use the same areas? Slip Drs Sydney will discuss these factors with you to single out the best option for you.
Related Posts:
We have talked about all the different materials you can add to your wood floor, but what about the material you can add to your feet to make wood floors less slippery? While it might be an obvious call, it is worth mentioning that the correct footwear can help you avoid a slip, trip or fall on wood floors. Avoid socks or hard heeled shoes and opt for rubber soled shoes or house slippers.
To polish off this discussion, it is important to protect not only your wood floors but your family and visitors too. It is your responsibility to ensure your floors have adequate traction so that you, your family and friends are not at risk of slipping, tripping or falling.
Contact the team at Slip Doctors Sydney for a professional chat about your wood floors and non-slip treatments Sydney.