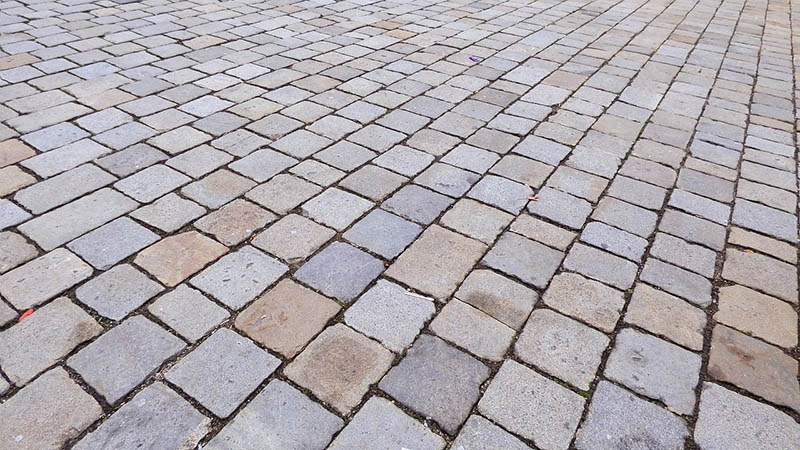 Slippery pavers are often an accident waiting to happen. Preferably, your outdoor pavers should be raised, in an area that has good drainage and they should have a slip-resistant texture. But even the most slip-resistant pavers that lack drainage can become slippery. They can be vulnerable to moss, lichen or algae pores which is a potential danger in itself.
Once your pavers become even slightly slippery it is time to take action. But what can you do?
Wash the area 
Firstly, you should wash the pavers to remove as much moss and other growth as you can. Use a stiff brush and scrub the growth away.
If your pavers lack natural sunlight where they are positioned, prune nearby trees to increase sunlight and prevent future growth.
Once the area has been cleaned treat it with a fungicide solution to stop growth from reappearing. The solution should be scrubbed into the surface, left for some time and washed off. If you have time, repeat the process for maximum effect. Ensure you have removed all traces of fungicide.
Add epoxy flake flooring 
Consider revamping your pavers with flake flooring. Epoxy flooring is one of the strongest and most durable flooring options out there. Resistant to harsh UV rays, when epoxy flake flooring is applied to concrete pavers it gives them a creative and anti-slip finish. It does not harbour bacteria and is perfect for wet areas where bacteria like to grow.
Add texture
Think about adding engravings or stampings to your pavers. This involves adding a new layer of concrete which you can have engraved to increase texture and traction even when the pavers' surface is wet.
There's also the broom finish, which is typically used by concrete finishers to make the surface anti-slip by sweeping a broom over partially dry or soft concrete. If the pavers are designed to drain, the shapes can be created in the direction towards the drain. You may use a standard broom with stiff bristles or a concrete broom which has various configurations.
Add grit additives 
If you are adding a layer of protection to your pavers, you can add grit to your sealer. This increases the floor's grip and makes it skid resistant. The grit is simply silica, clear crystals, plastic and other minerals. Such a combination is perfect for wet or heavy traffic areas.
The downside to grit additives is in the cleaning. Coatings containing grit can be difficult to clean.
Non-slip tape 
Non-slip tape is available in different shapes, colours and sizes. It is ideal for staircases, deck and ramp pavers. Reasonably priced, non-slip tape is very easy to install and supplied in varying degrees of grit. It can be used in wet areas which is ideal for pavers impacted by the elements. However, you may need to reapply it more frequently if you place it in areas that have a high exposure to rain and water, oils and detergents.
Non-slip paint 
Non-slip paint is an acrylic based, textured and UV stable coating that is ideal for creating slip resistant pavers around the home and garden. While it has the tendency to alter the visual appearance of any surface it is applied to, it is sturdy and resists cracking and peeling.
Non-slip paint can only be used on porous surfaces including concrete, primed metal and unfinished timbers. When used on non-porous surfaces such as ceramic, the surface will delaminate in time as it lacks adhesion.
Anti-slip floor treatment
Slip Doctors has a huge range of anti-slip treatment for tiles, pavers and concrete floors, and is all-encompassing when it comes to slippery flooring.
Let's take a look at some of Slip Doctors' anti-slip solutions.
GripX anti-slip coating and sealer for stone, tiles and concrete 
A durable non-slip solution, GripX has been specially designed to maximise the slip resistance on sealed surfaces, stained concrete, natural and engraved tiles and most other natural stone. GripX is an easy-to-apply roll-on coating delivering a semi-gloss textured finish.
Polish Grip anti-slip sealant and coating 
Polish Grip is ideal if your pavers are glossy, polished and shiny marble, porcelain, ceramic or natural stone. It increases the surface traction and acts as a penetrating sealer which protects the surface from spills and stains.
Deck Grip outdoor anti-slip coating 
Whatever the material of your pavers, Our Deck Grip outdoor non-slip coating is the perfect anti-slip floor treatment for decks and slippery pool areas. A water-based, non-yellowing acrylic sealer it protects your pavers against UV rays, chemicals and chlorine.
Dura Grip anti-slip epoxy floor paint 
Designed to give your pavers a durable anti-slip coating, Dura Grip is an epoxy application that is easy to maintain. It can be used around the pool as well as inside the home on floors and stairs.
Final thoughts 
If it's anti-slip pavers you're after, non-slip floor treatment by Slip Doctors Sydney is your answer. Whatever material your floor surfaces are, we are the experts for the job. You will never have to worry about you or your family and friends slipping or falling on your pavers again.